Volunteers are the heart of Linwood Community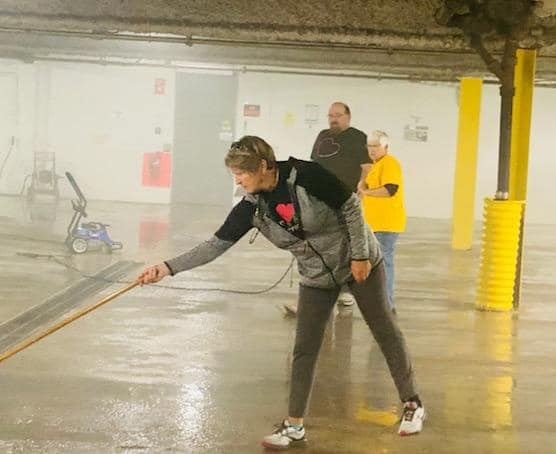 Volunteers enhance the lives of our tenants! Many tenants enjoy the gift of relationships offered by volunteers, some tenants do not have family close by and having visitors defers feelings of loneliness.
Volunteers take on a variety of roles, depending on their skills and talents. Some volunteers prefer to do some office tasks or assistance with special projects such as "Pie and Ice Cream Social", picnics, or leading social and game activities. There is a volunteer who leads exercise classes! Many volunteers prefer "hands on" tasks and find satisfaction by assisting with spring and fall projects.
If you have a skill, talent or gift to share please contact us. We endeavor to match your skills to enhance the Ministry and Mission of Linwood Community. You may possess a talent which creates a new program or service for our tenants. You can make a difference.
Ready to volunteer? Click here!
Thank you to the following individuals and organizations who have shared gifts and talents to support our ministry:
Great Northern Lamination's, Tenant Engagement
Plexus Corp – Young Professionals – Building Support
Miron – Bench & Picnic Table Construction
The Marigold Mile – Flower Planting
Christ The Rock Youth, Inter Generational Programming
Pete Abraham, Gazebo Construction
Reverend Grant Applehans, – Worship Leader
Appleton Noon Lion's Club – Bingo Party
Rev. Brian Bankert – Worship Leader
Bernatello's Foods – Bingo Volunteers
Jim Borowski, Christus Lutheran Church, Greenville – Painting
Ken & Sarah Bultman – Tailgate Party Hosts
Care Patrol Fox Cities – Tenant Luncheons
Community First Credit Union – Grounds Work
Conceptual Financial Advisors, LLC – Grounds Work
Country Villa Senior Apartments Little Chute, Tenant Luncheons
Culvers of Darboy – Custard
Rev. Jake Czarnik-Niemeyer, Worship Leader
Rev. Jennifer DeNetz – Worship Leader
Eugene Doell – Gazebo Construction and Grounds Work
Sue Doell, Roses for Valentine's Day
Dalla Terra Pasta, Specialty Pasta and Puzzles
Faith Lutheran Church, Students – Care Packages and Tenant Engagement
Feeding America Eastern Wisconsin, Food Items
First English Lutheran Church Appleton – Grounds Work
First English Lutheran Summer Intern Ministry & High School Youth – Grounds Work & Tenant Engagement
Jodi Galeazzi, Grounds Care
Rev. Barb Girod – Worship Leader
Grace Lutheran Church – Serving Lunches
Steve Jansen, Lawn Cutting
Rev. Jennie Johnson-Wrege, Worship Leader
Chuck Kurtti, Roses
Rev. Dan Luett, Worship Leader
Jean Long Manteufel of Long's Senior Transitions, Little Library & Tenant Engagement
Rebecca Luett, Musical Entertainment
Memorial Florists & Greenhouses, Flowers
Mary Beth Nienhaus – Tenant Engagement, Bingo Party & Flowers for Tenants
Connor Romberg – Musical Entertainment
St Mark's Lutheran Church, Neenah – Grounds Work
Elizabeth Smongeski-Schwantes, Mary Kay Consultant – Care Packages
Stephen Foster Elementary Students – Potted Flowers
Liam Sullivan, Christ the King Lutheran Church, Combined Locks – Bird Feeders
Our Saviour's Lutheran Church – Yardwork
St Mark's Lutheran Church, Neenah – Care Packages
St Timothy Lutheran, Menasha – Christmas Cantata
St Paul Lutheran Church – Care Packages
Old Glory Cafe, Matt Coenen, Grounds Work & Luncheon Donations
Thrivent Financial – Care Packages
Treeo's
Trinity Lutheran Church – Serving Lunches & Tenant Care Packages
ThedaCare – Care Packages
Volunteer Fox Cities – Care Packages
Xavier High School Students – Grounds Work and Tenant Engagement
Xavier Fine Arts Theater – Performances
Zion Lutheran Church, Serving Lunches
And countless individuals who give of their time and talents.